This article will help you customize which data display on your maps.

You'll learn how to show or hide your waypoints, tracks, routes, areas, saved hikes, and folders.
Individual Items
Use the Saved Items Sidebar to show or hide routes, tracks, waypoints, and areas:
1. From the main map, click the Folder icon to open the Saved Items Sidebar

2. Click the eye icon to hide or unhide an item.
Search, sort, and filter items to find them more easily.
1. Searching for items
Click the magnifying to search by name.
2. Sorting items
Click the sort icon to reveal the different "Sort By" options. After choosing a "Sort By" option, choose a "Sort Direction."
3. Filtering items
Click the filter button to reveal the different filter options.
You can filter by type of item (area, route, track, waypoint, folder):

And/or by current visibility (visible or hidden):
After making your selections, click "Apply."
To reset the filter, click the filter button then click "Reset" at the bottom of the sidebar.
Folders
You can have more control over showing and hiding items from the map if you organize with folders. For more information, see: Managing Folders on gaiagps.com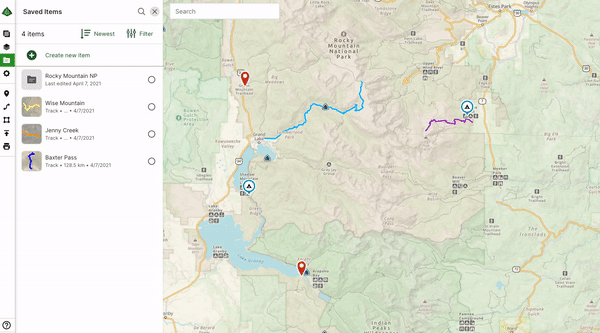 Folder Visibility Notes:
Hiding a folder hides all data in the folder.
Showing a folder shows all data in the folder.
Similar to Map Overlays, a 'visible' folder can contain both shown and hidden items.
Show or Hide All of a Type of Data
You can hide (or show) tracks, routes, areas, waypoints, waypoint labels, Public Tracks, and Grid Lines all from the Map Overlays section of the Layers menu.
By default, all of your saved data is visible on the main map view. However, your map may become cluttered over time. You can follow these steps to clear your map:
1. Click the Overlays icon in the sidebar.
2. Toggle any of the Map Overlay options on or off.
Coordinate Grids
To show or hide coordinate system grids, like latitude/longitude or UTM, see View and Add Coordinate Grids on gaiagps.com.