This article will show you how to create a new waypoint or edit an existing one. Waypoints can mark your current location, or can be added anywhere on the map. You can also add a waypoint to search coordinates. Learn how here.
Note: You can create a waypoint while recording a track and it will be linked to that track. If the recording is paused, it will not link to the track.
Create a New Waypoint
1. To create a new waypoint at any time, tap the + icon in the top menu
| | |
| --- | --- |
| iOS | Android |
| | |
2. From here, there are two options for creating a waypoint:
Add Waypoint - This puts a waypoint at the current Map Center

This option also allows you to input precise GPS coordinates
Add Waypoint (My Location) - This puts a waypoint at your current GPS location
| | |
| --- | --- |
| iOS | Android |
| | |
Select the Waypoint icon and tap Save:
| | |
| --- | --- |
| iOS | Android |
| | |
As of version 2021.4, emoji waypoints are available.
To access the emoji icons, follow these steps:
On the Name and Save screen, tap the red pin icon to open the icon menu
Then, tap the smiley face icon. On Android, use the gray menu to navigate between icon libraries.
| | |
| --- | --- |
| iOS | Android |
| | |
You can also create a new waypoint by simply tapping the map.
Tap the map where you want the waypoint to appear.
A tap drawer will appear. At the top of the drawer, tap the Save button.
You can edit the title or icon. Tap Save again.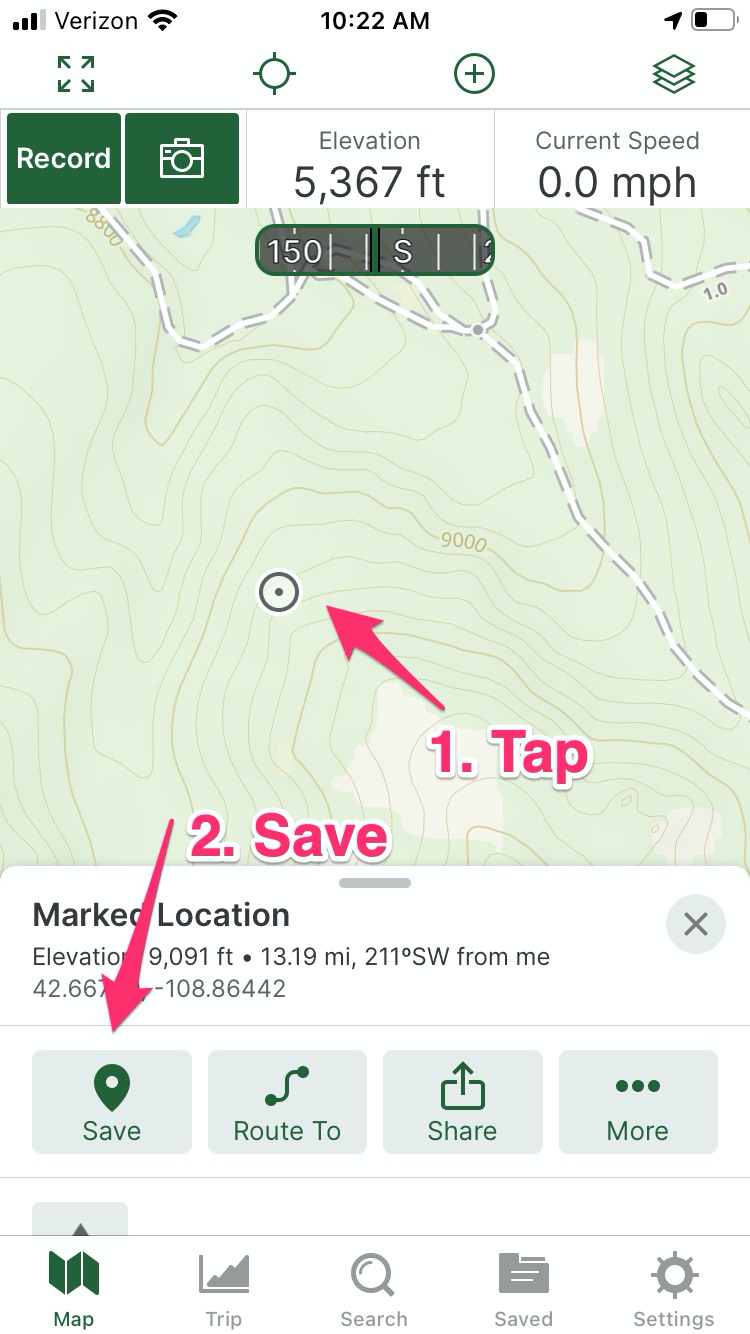 Screenshot from iOS app, Android app is very similar.
Edit an Existing Waypoint
1. To edit an existing waypoint, go to your saved waypoints menu (iOS) / saved waypoint menu (Android)
2. Select the waypoint that you would like to edit
3. On iOS, tap the pencil icon for the following options:
Edit the Title
Lookup Elevation
Move the Waypoint
On Android, tap the pencil icon for the following options:
| | |
| --- | --- |
| iOS | Android |
| | |
4. On iOS, tap the More (...) menu for the following options:
Show on Main Map
Guide Me
Open Driving Directions with Apple or Google Maps
Export the Waypoint as a GPX or KML file
Delete
On Android, the following actions are available on the waypoint detail page:
Add a Photo
Add notes about the location
Choose a Parent Folder
Show on Main Map
Edit/Reposition - change the icon or change the position
Guide Me
Export the Waypoint as a GPX or KML file
Open Driving Directions with Google Maps
Delete
| | |
| --- | --- |
| iOS | Android |
| | |