Waypoints are markers that can be placed at a specific point on the map. Waypoints are commonly used to mark points of interest or information like a critical turn on a trail.
This article will show you how to:
create a new waypoint
change the location of existing waypoints
Create a new waypoint from "+ menu"
1. To create a new waypoint at any time, tap the + icon in the top menu
| | |
| --- | --- |
| iOS | Android |
| | |
2. From here, there are two options for creating a waypoint:
Add Waypoint - This puts a waypoint at the current center of the current map view. You can drag the waypoint to another location or input precise GPS coordinates.
Add Waypoint (My Location) - This puts a waypoint at your current GPS location
3. To change the position, drag the ring around the waypoint.
4. To change the waypoint icon and/or color, tap on the icon.
| | |
| --- | --- |
| iOS | Android |
| | |
For more icon choices:
iOS: Scroll to the right for more icons. Tap the smiley face emoji to see emoji icons.
Android: To access more icons, scroll down, search by name, or use the emoji filters below the search icon.
5. Tap the back button to go back to the Name and Save screen.
6. Choose a folder and add notes if applicable.
7. Tap Save.
Create new waypoint by tapping on map
1. Tap the map where you want the waypoint to appear.
2. A tap drawer will appear. At the top of the drawer, tap the Save button.
3. You can edit the title or icon. Tap Save again.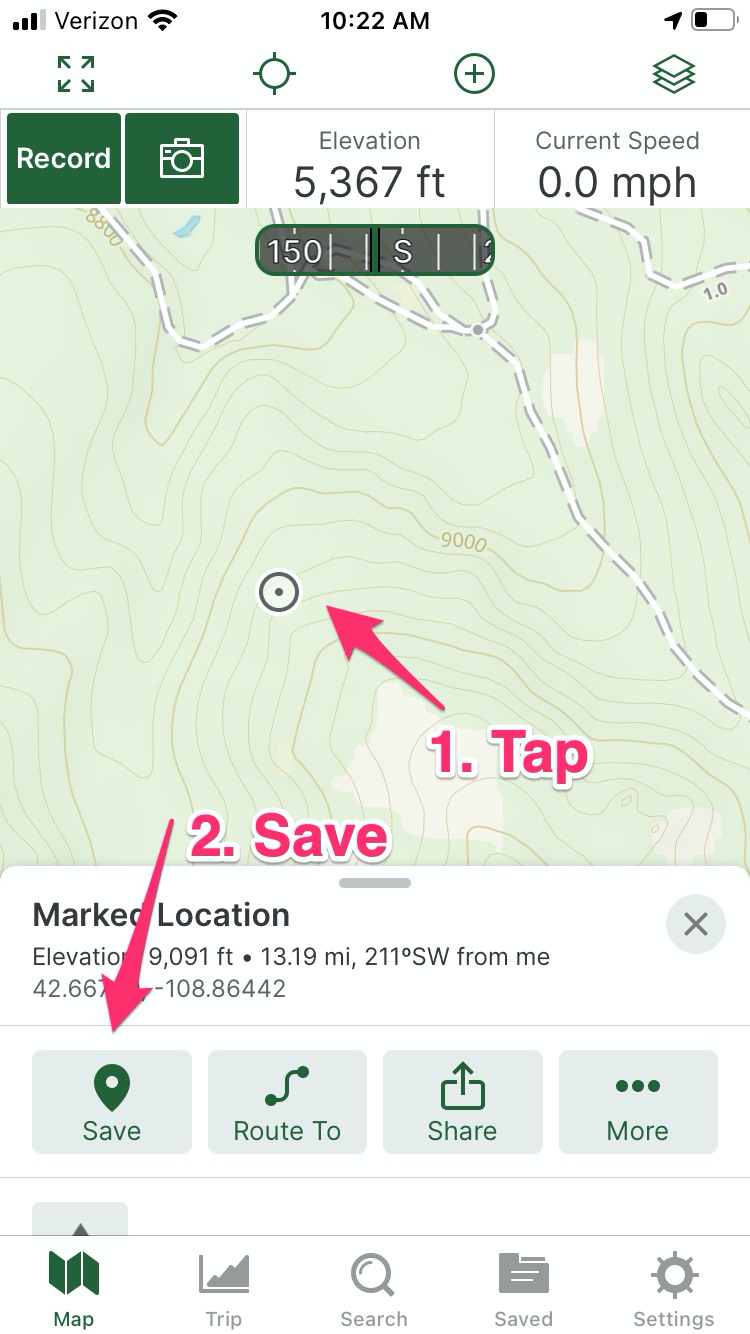 Screenshot from iOS app. Android app is very similar.
Edit an Existing Waypoint
1. To edit an existing waypoint, go to your saved waypoints menu (iOS) / saved waypoint menu (Android)
2. In the list, tap waypoint that you would like to edit. This shows the waypoint details screen.
3. On iOS, tap Edit (pencil icon) to:
Edit the title
Move the Waypoint
On Android, tap the pencil icon to:
| | |
| --- | --- |
| iOS | Android |
| | |
4. On iOS, tap the More (...) menu for the following options:
Show on Main Map
Lookup Elevation
Guide Me
Open Driving Directions with Apple or Google Maps
Delete
On Android, the following actions are available on the waypoint detail page:
Add a Photo
Add notes
Choose a Parent Folder
Show on Main Map
Guide Me
Export the Waypoint as a GPX or KML file
Open Driving Directions with Google Maps
Delete
| | |
| --- | --- |
| iOS | Android |
| | |