This article will show you how to search for hikes, parks, trails, and places (places of interest or POIs) in the Gaia GPS app.
Tap Icons on the Main Map
You can tap on the map to get information about trails, parks, and places.
Tapping icons on the map work best with OpenStreetMap based map sources, like Gaia Topo, Outdoors, or OpenCycleMap HD.
1. Move the map to an area of interest.
2. Tap on the map. This will bring up the tap drawer. Swipe up on the drawer to see the items in the area.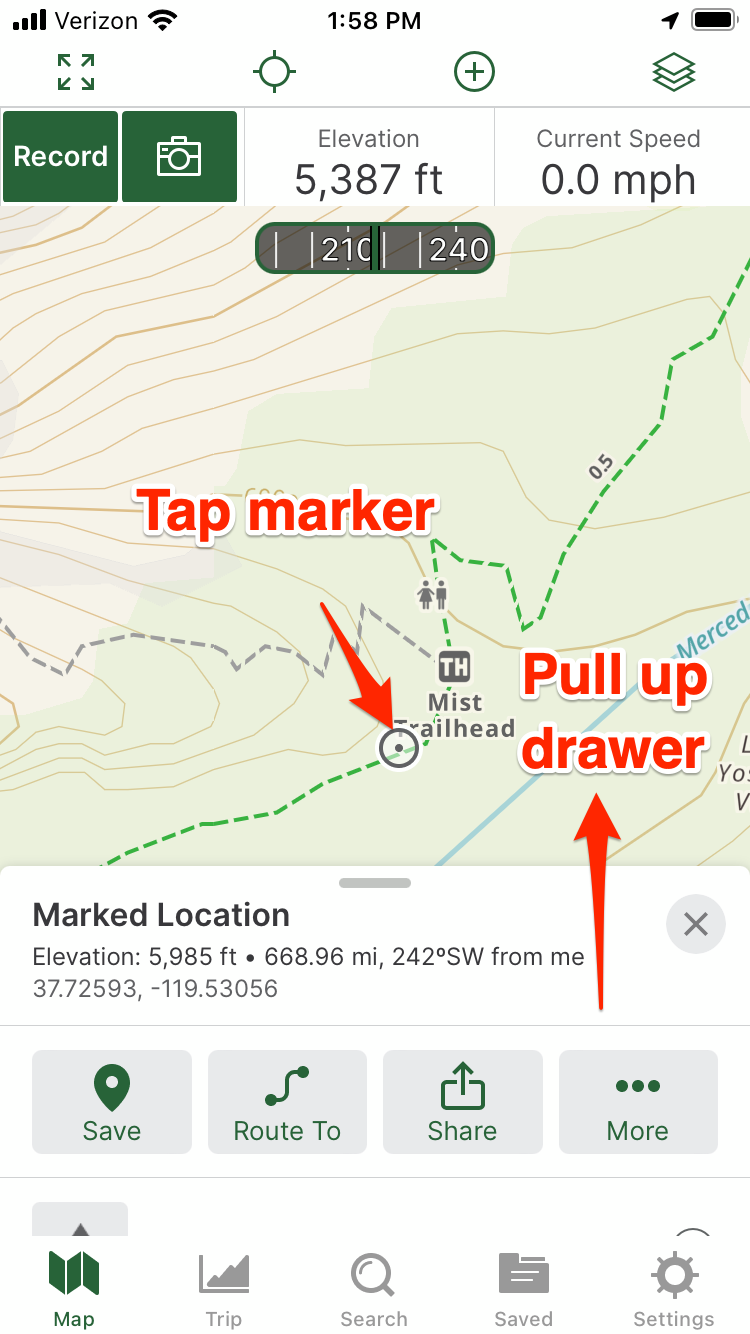 3. The drawer will show different items in the area, such as parks, places, and trails.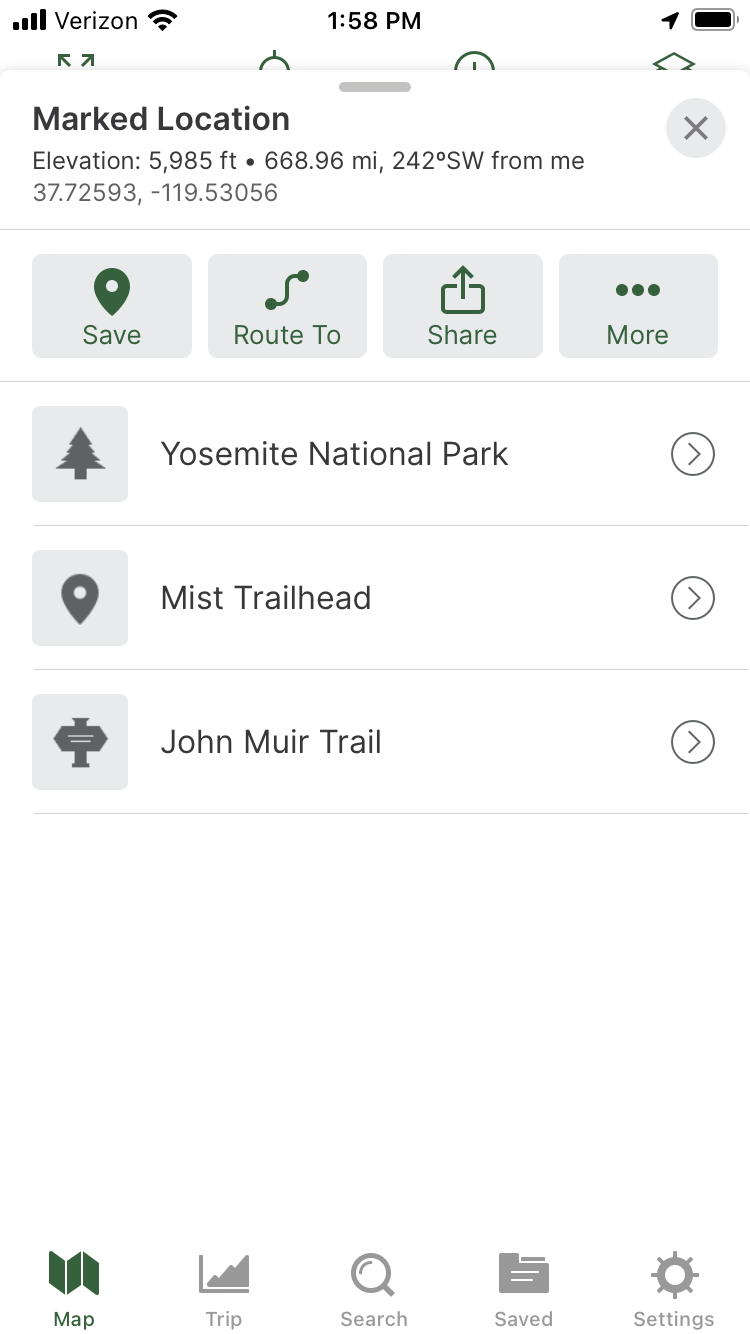 4. Tap an item in the drawer to get more information about it.
For example, if you tap "Yosemite National Park" in the drawer in the above picture, it will take you to a page with more information about Yosemite National Park.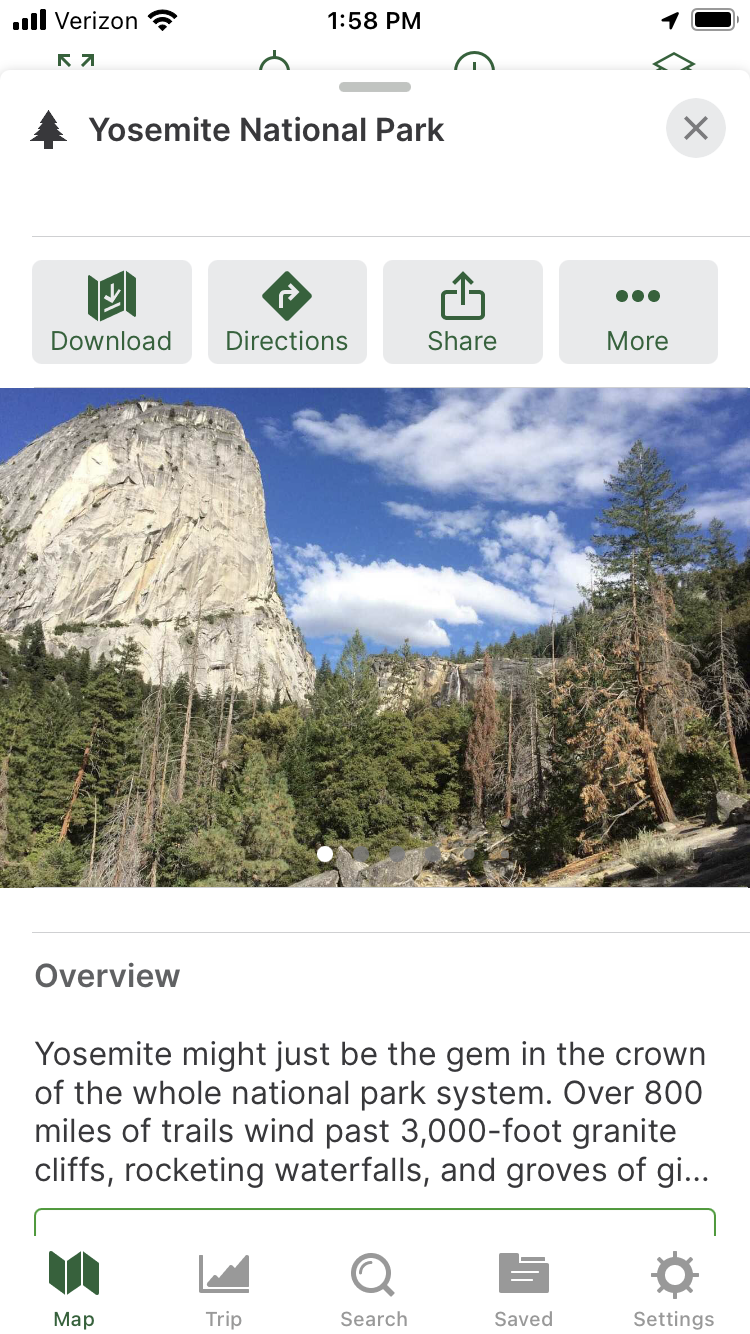 5. Scroll down to view nearby hikes.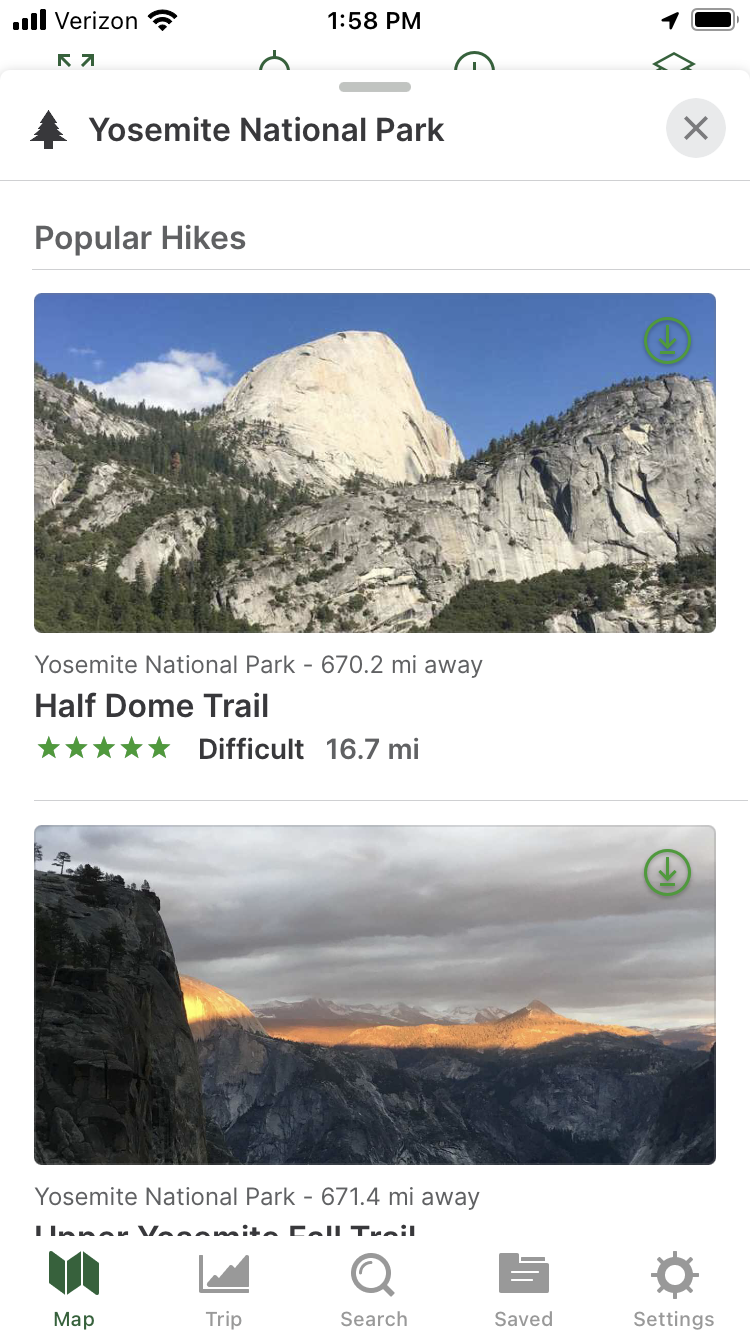 6. Tap on a Hike and it will show as a purple line on the map. Pull up the drawer to get more information like distance, elevation, and difficulty. You can save the Hike for offline use and also view reports and ratings. When you save a hike for offline use, the app will automatically download maps for the hike. You can view the Hike and the corresponding maps in the Saved menu.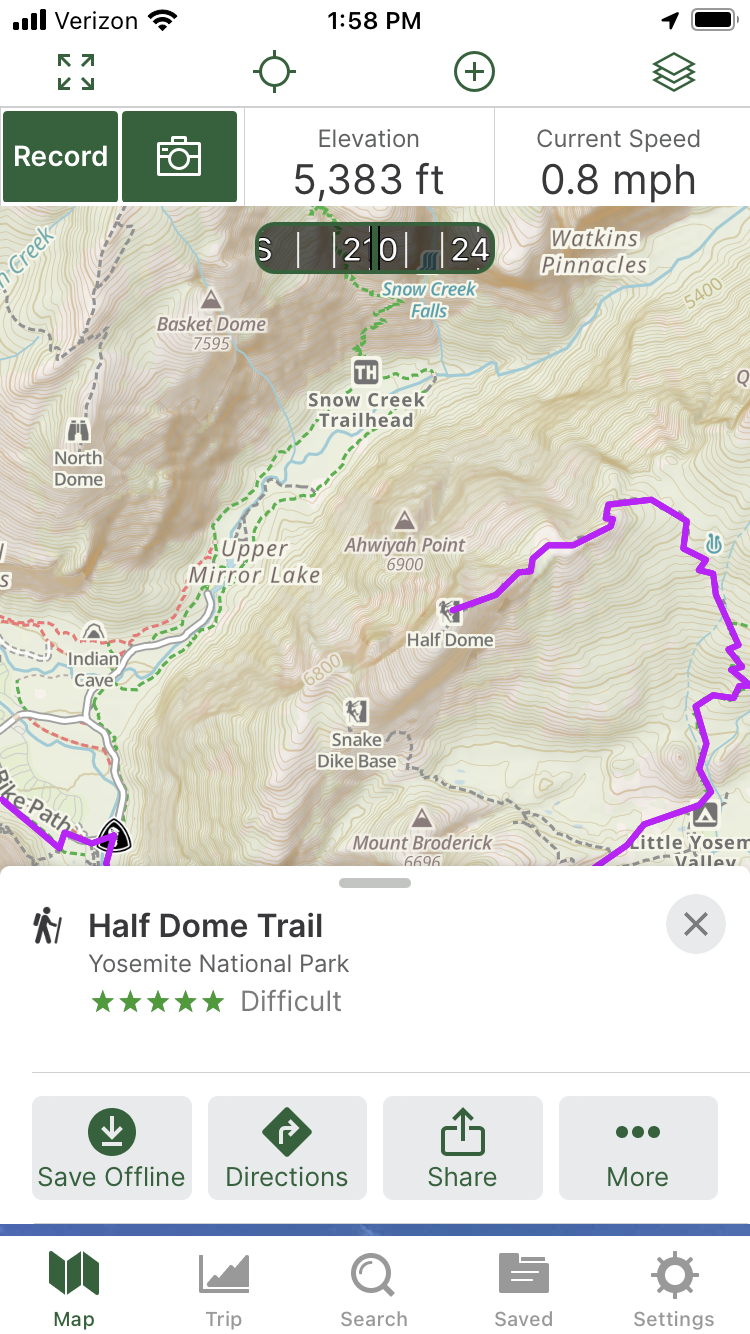 Search Box on the Main Map
1. Tap the search icon in the middle of the bottom menu bar. It will list nearby popular Hikes/Offroad routes.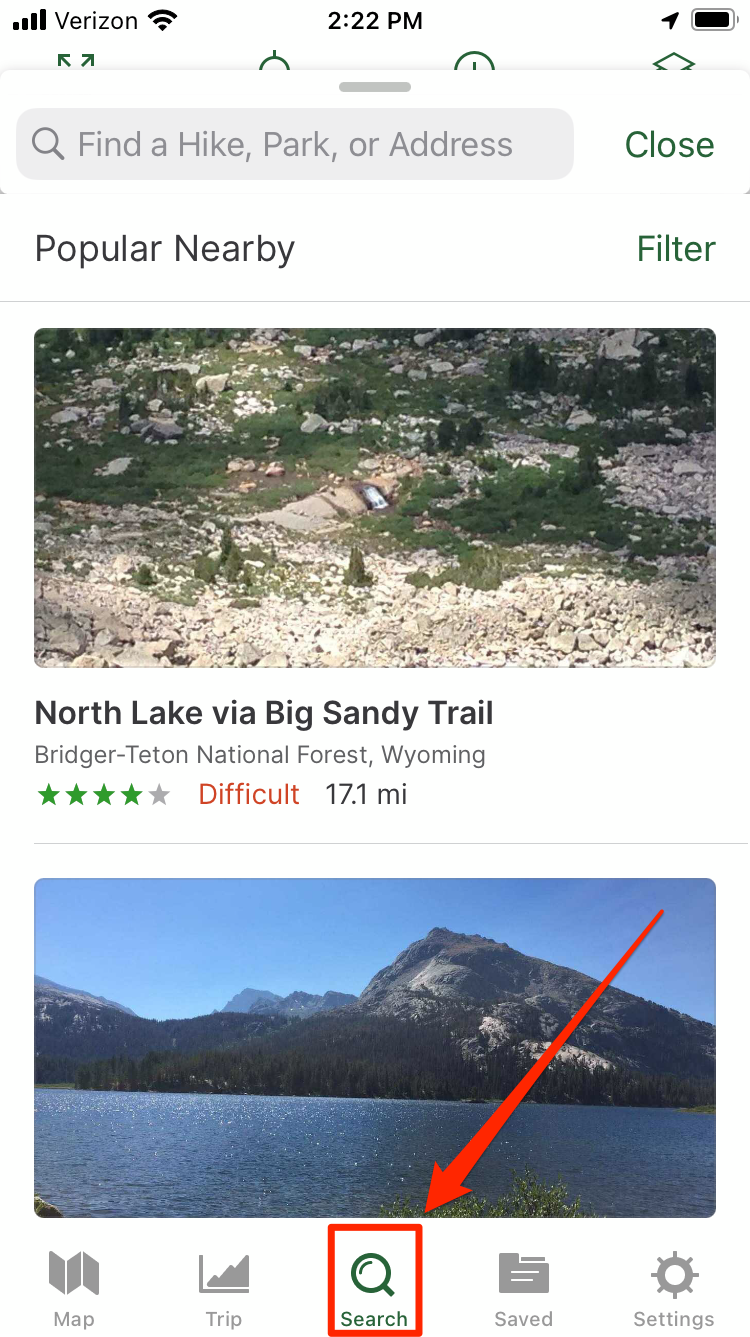 2. Tap the filter button to filter by activity (Hiking or Offroading).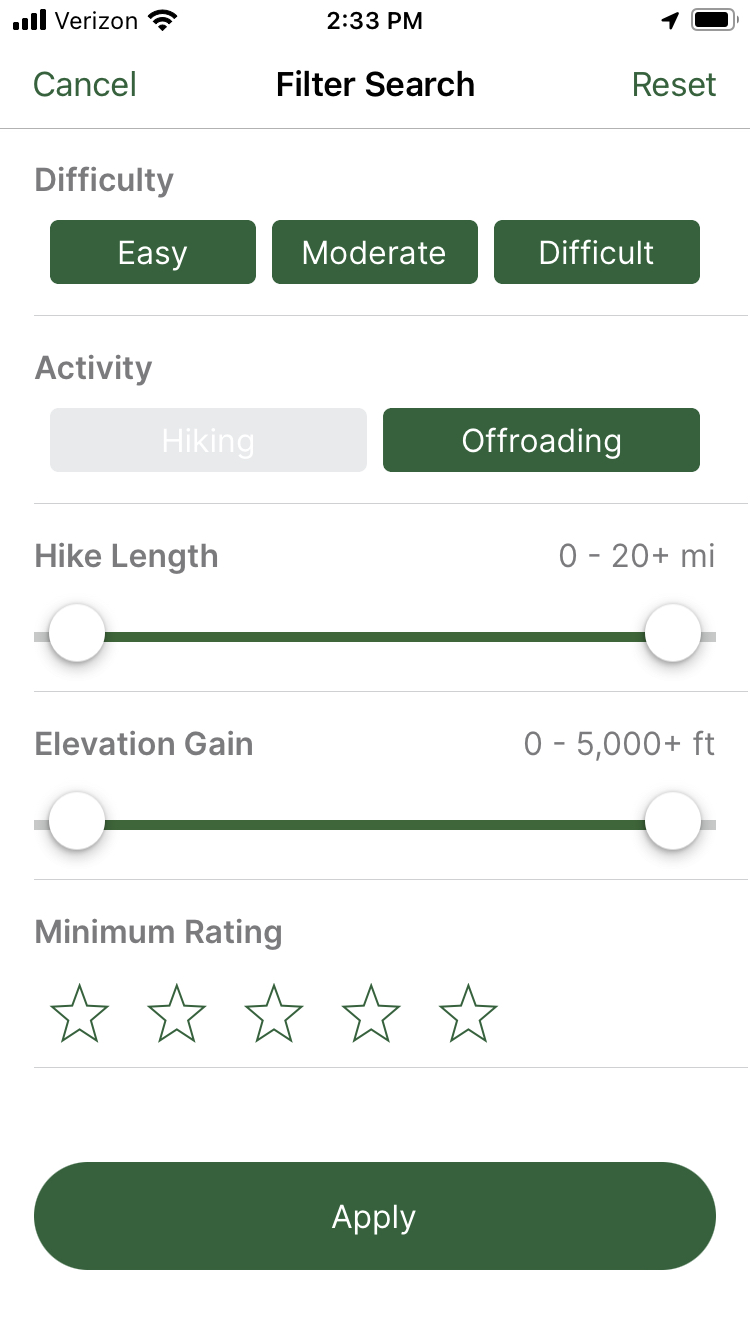 3. Select a result from the list to learn more and save it for offline use.
4. You can also search by name. Tap the Search icon and enter a term. Use the filters to see results by type.
5. Tap a search result to display the item on the map.
"Hikes" versus "Trails"
A "Trail" is a dashed line on the map that represents a footpath or road. When you tap to show a trail on the map, it will highlight the trail as a red line.
A "Hike" is a specific known route that people frequently travel along as an activity. A hike might be one single trail, or it might be a combination of several different trails. When you tap to show a hike on the map, it will show as a purple line. The name of a hike may include the word "trail."