Sometimes you might want to pause map downloads. This can come up if you are installing Gaia GPS on a new device, and you want to download maps for a trip, but you don't want to download your older maps at the moment.
Here's how to handle that.
Pause Downloads
1. Filter the Saved menu to Downloads
2. Long press on the offline map download you wish to pause
3. Select "Pause Download"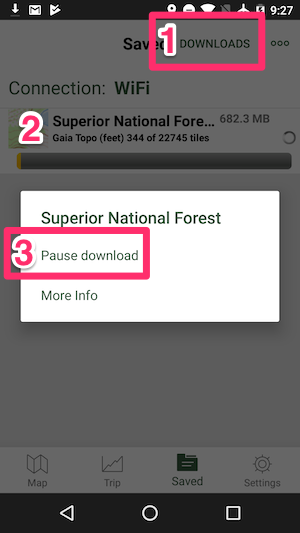 Resume Individual Downloads
You can resume any particular map download by viewing it in the Saved menu and then tapping the "Resume Download" option.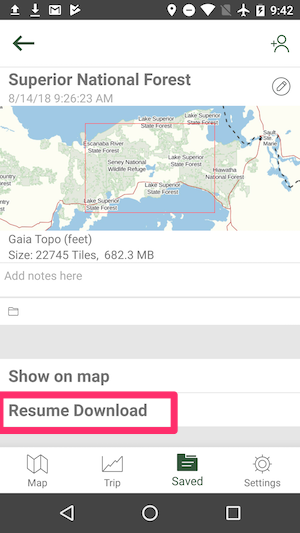 Or you can resume the download from the Downloads section of the Saved Menu by long pressing on the map download and selecting "Resume Download".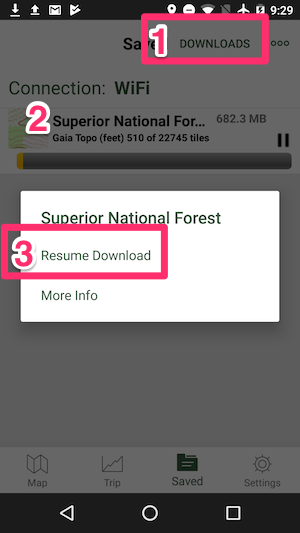 Cancel by Deleting
Deleting a map will also cancel its download.
Sometimes, if you want to halt a map download, you might be better off deleting the map. Later, you can even "undelete" maps via gaiagps.com, or make new ones.
Downloads on Cellular/4G
When you create a map download when using cellular (not on wifi), Gaia GPS will ask you to confirm you want to download over cellular.

In addition, when on cellular, Gaia GPS will not automatically resume large map downloads, and you have to manually force it to do so if as described above.