This article will show you how to use the Guide Me feature to:
Guide Me Along a Specific Route
Turn-by-turn directions are available for driving, cycling, and hiking routes using the Guide Me feature.
1. Create a route in the app or on the web.  Be sure to use the correct mode - driving, cycling, or hiking - for your activity.
2.  Tap on the route on the map. In the tap drawer, select the route. Then, tap More > Guide Me. Or, find the route in the Saved menu with these steps: Tap Saved > select Routes from your Saved menu filter > tap on the route name > on the route's detail page, select More > Guide Me.
3. You will see a 'Start Track Recording?' notification display.  A track is not automatically recorded when following a route, so select 'Start recording' if you would like to record a track while using the Guide Me feature. If you choose to record your tracks, the track recording timer will appear in the stats bar.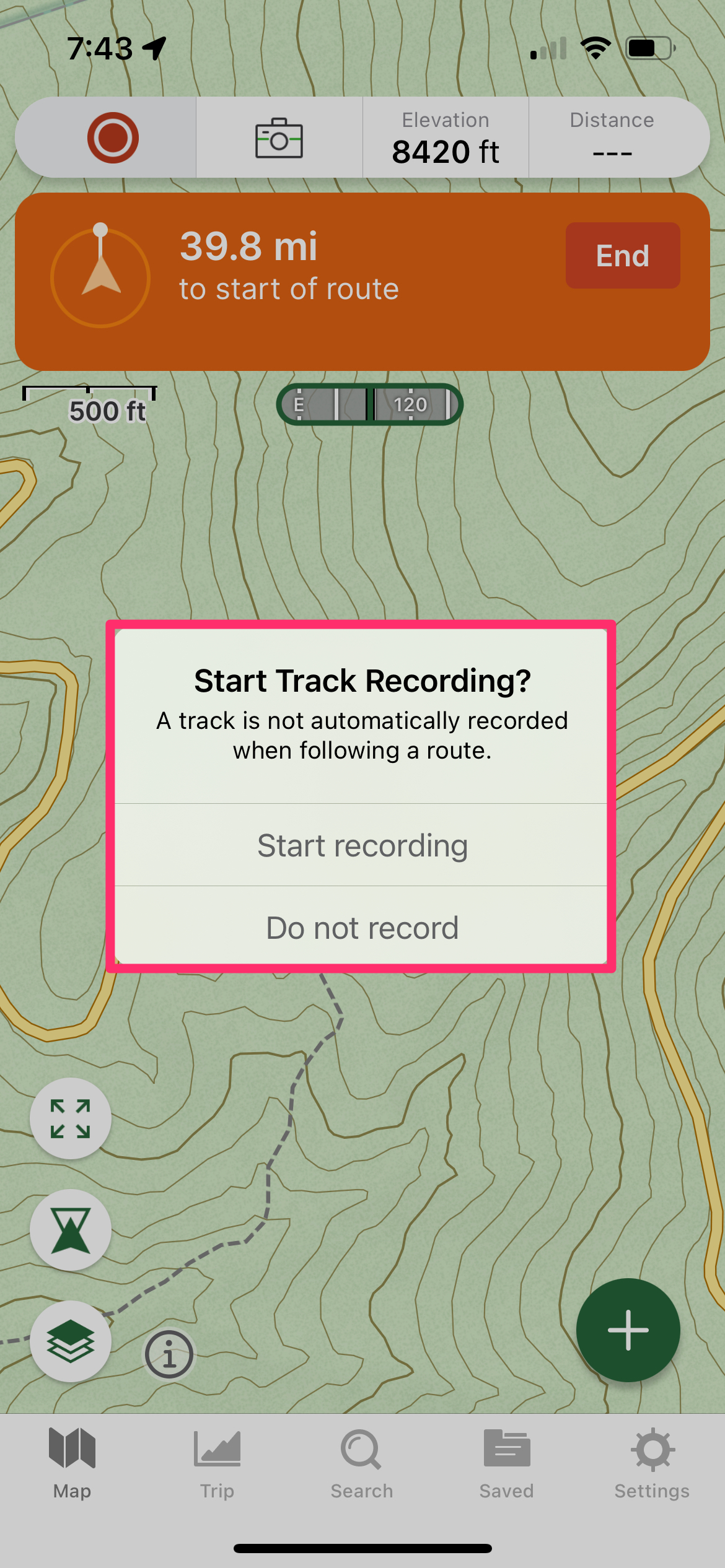 4. Turn-by-turn directions will be displayed at the top of the screen. If you are not near the start of the route, it will tell you the direction and distance to the start of the route.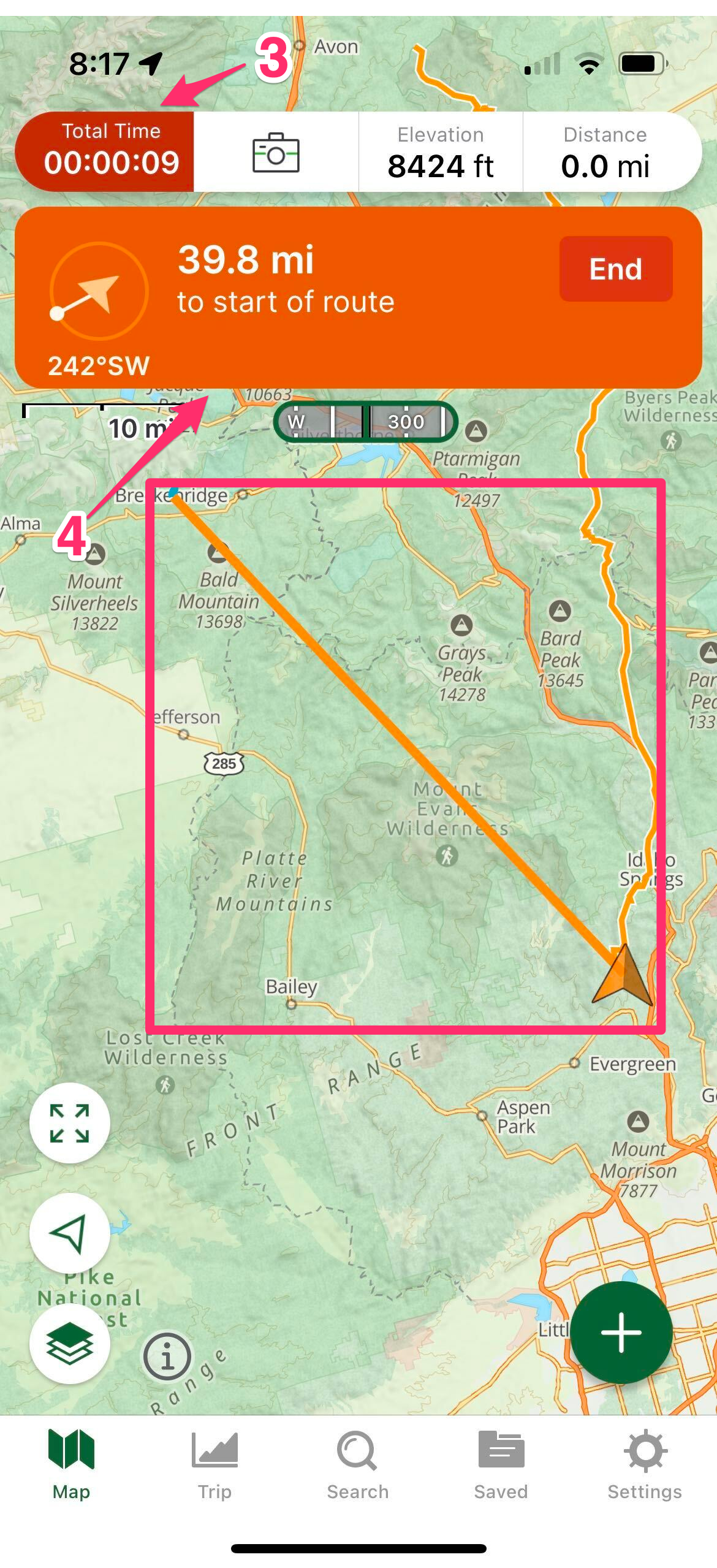 Once en route, the top menu will show your next turn: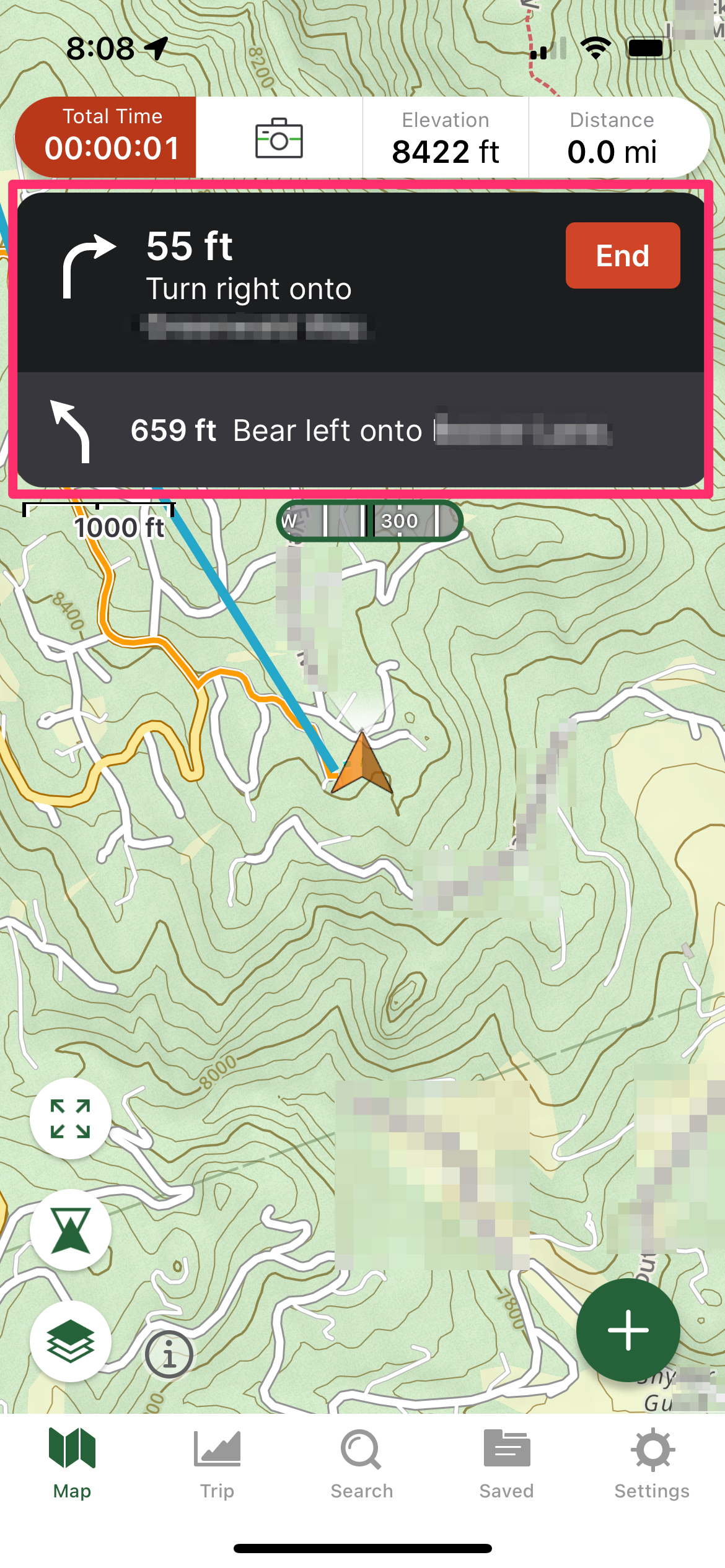 6. To view the full list of directions, tap the route information banner at the top of the screen. On this screen, you can also view your current location along the elevation profile for the route.
7. Tap Map to return to the map and navigation screen
8. Tap End to exit out of the navigation screen for the route. Then, manually finish your track recording.
Get Straight-line Guidance to a Track or Waypoint
1. First, select the item that you want guidance for
Tap the item on the main map > select the item in the tap drawer 

Alternatively, you can select the item from your Saved tab
2. On the Details drawer/page, tap More then select 'Guide Me'
3. A guidance line will appear on your map screen leading from your current location to the selected item. Distance and bearing information will appear in the banner at the top of the screen. This bearing is measured in relation to true north. To view more information, tap the banner. Tap the arrow to view the waypoint or track's details page.
4. Tap the 'End' to exit guidance.

Guide Me to a track or waypoint does not provide turn-by-turn directions, however, you can choose to get directions to a waypoint or track by creating a route from your starting point to the item.  You can also get Google or Apple Maps driving directions if you have an internet connection. To do that, select 'driving directions' from the More menu on the item's page.