Gaia GPS will need access to your phone's location information in order to follow your location on the map.
Location Service options
Gaia GPS uses your phone's built-in GPS chip - follow these steps to ensure your location services are turned on so Gaia GPS will be able to track your location on the map.
Selecting either 'Always' or 'While Using' option for Gaia GPS.
Open your phone's settings app> Scroll down to Gaia GPS> Location> Select 'Always' or 'While Using'
Both of these options allow Gaia GPS to use your location when recording a track and the app is in the background (not displaying on the screen). The main difference:
Always - If the app crashes while in the background, the app will be able to automatically resume the track recording.


While Using - You will notice a blue status bar or blue indicator when recording a track on your phone's screen. This bar is not visible if 'Always' is selected
Why is Gaia GPS using your location in the background?
With iOS 13 new permissions settings, you will see the following pop-up occasionally: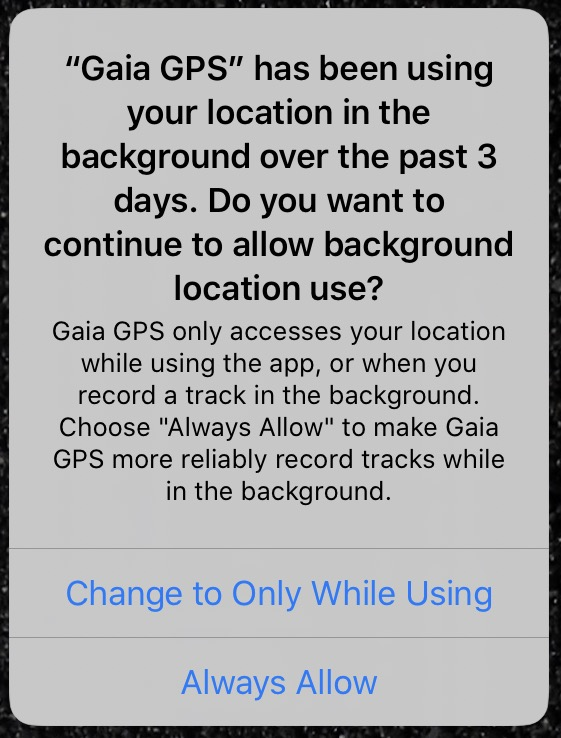 This pop up will appear even when the app is not accessing your location data, it will notify you when the app's location permissions are set to 'Always' or if the app is actively accessing your location information when using the app.
When Does Gaia GPS Access Your Location Information
Gaia GPS will only access your location information when:
It is in the foreground and actively being used

If you are recording a track and put the app in the background
How to stop getting this pop-up
Set Gaia GPS location permission to 'Only While Using' should stop this pop-up

Open your phone's Settings app> Gaia GPS> Location> 'Only While Using'

When the app updates, you will likely see this pop-up again and need to confirm your location settings.