This article will show you how to download maps to use while offline and out of cell service.
Note: You must be logged in to the app and have a subscription to download maps.
If you are having issues downloading maps, check out this article:
Download Maps
1. Make sure the map source(s) you want to download are active on the map with these steps:
Note: certain maps such as USFS 2016, NPS Visitor, and NatGeo Trails Illustrated have limited coverage. If you don't see the map for the region that you are trying to download, it is likely that no coverage is available.  If you are unsure, use Gaia Topo as it has worldwide coverage.
2. Navigate to the area you would like to download by:
3. Tap the layers icon in the lower left-hand corner of the map 

4. Tap Save Offline Maps
5. Tap and drag the dots at the corners of the highlighted rectangle to cover the area to be downloaded.
Note: When downloading multiple maps to cover a large area, you can overlap the download area and the app will not re-download previously downloaded areas. 
Note: Certain map sources limit the number of tiles (the individual images that compose a digital map) that can be downloaded at one time. MapBox sources have a 10,000 tile limit per download with a combined limit of 160,000 tiles for all MapBox sources. Learn more here: Individual Offline Map Tile Limits
6. On iOS, tap "Save".  On Android, tap "Next".
| | |
| --- | --- |
| iOS | Android |
| | |
7. Choose your sources, resolution, and offline routing data.
C

onfirm that the map sources you'd like to access offline are toggled on.

If you'd like the ability to create snap-to-trail routes while offline, toggle on offline route data.
In Android, if you'd like the ability to view 3D maps while offline, toggle on Include 3D Maps. Learn more about 3D maps here: Using 3D Maps on the Android App

Select the map resolution you'd like to download: Low, Medium, or High.  See advice on choosing a zoom level here. 
Tap Next
| | |
| --- | --- |
| iOS | Android |
| | |
8. On the Name and Save screen, you have the option to give the map a name and add it to a folder.  Tap Save when finished.
| | |
| --- | --- |
| iOS | Android |
| | |
9. On iOS, the Download Status screen will pop up as soon as the download begins. On Android, open your Saved Items tab and change the filter in the top right to Downloads.
Note for Apple devices: you need to leave the app open on the screen (in the foreground) and leave your screen on for the map to download.  Don't switch to another app or let your screen turn off, or it will pause the download.  To stop your screen from turning off, open iOS Settings > Display and Brightness > Auto-lock > set to Never.  To resume a paused download, see Pause/Resume Map Downloads on iOS.
| | |
| --- | --- |
| iOS | Android |
| | |
Downloading Layered Maps
You can download a map with multiple sources with the steps above - just toggle on the sources you want available offline (see step 7).  If you have Map Packs enabled, all sources in the Map Pack will be toggled on by default.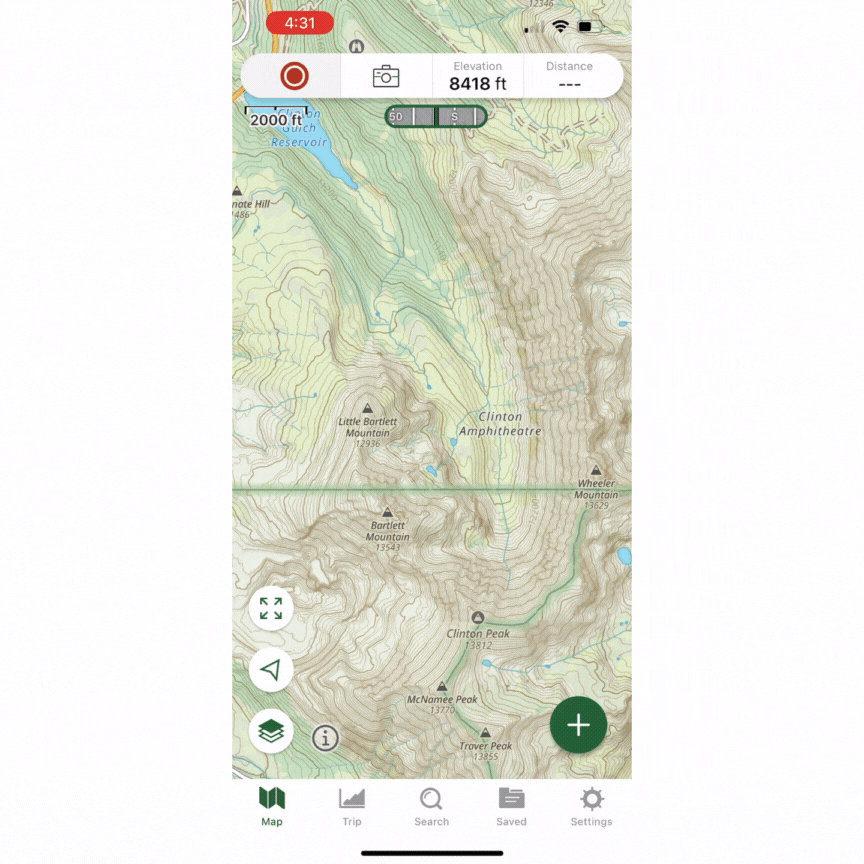 When a layered map is downloaded, the order of layers and opacity is not fixed - you can still adjust layers and opacity as you would while online. 
See these articles for how to adjust layers and opacity:
Overlapping New and Old Map Downloads
When you download new maps, your previous downloads will display and be shown on the map. It's okay to overlap the boxes. The app will not download the same map tiles twice, so overlapping the boxes will not take up more storage space on your device.
| | |
| --- | --- |
| iOS | Android |
| | |
Download Progress
You can check the status of your map downloads by following these steps:
In the iOS app, tap the Saved icon > change the filter in the top left to Maps
In the Android app, tap the Saved icon > change the filter in the top right to Downloads
| | |
| --- | --- |
| iOS | Android |
| | |
Delete a Downloaded Map
Follow these steps to delete a downloaded map:
Tap the Saved folder icon to open the Saved menu.
Select Maps from the filter (top left on iOS, top right on Android).
On iOS, tap the more icon (circle with three dots) > Delete
On Android, long-press on the map name and select the trash can icon in the top right.
| | |
| --- | --- |
| iOS | Android |
| | |
Troubleshooting and Common Questions
My maps are stuck or aren't downloading
Please see this article: Why aren't my maps downloading?
How do I pause or resume map downloads?
Please see these articles:
What resolution should I choose - Low, Medium, or High?
For activities, like hiking, biking, or skiing, High is recommended. 

For off-roading and other driving-oriented activities, Medium may work depending on your preferences.

Low can be useful for activities such as flying or driving where you don't need a lot of detail but need to cover a large area.

We recommend downloading maps and testing them by putting your device in airplane mode. Be sure to do this before your trip to make sure the zoom works for you.
Can I delete a single source/layer from a downloaded layered map?
It's not possible to remove a single source or layer from an individual layered map.  You can remove the source from your map menu (iOS/Android), but this will remove that source from all downloaded maps. Alternatively, you can delete the downloaded map and repeat the download process with the desired sources.
Can I expand an already downloaded map?
You can't expand the area of a downloaded map, but you can download a new map.  It's okay to overlap the red boxes - the app won't download the same tiles (the individual images that make up a digital map) twice.  See Overlapping New and Old Map Downloads.