By logging into your Gaia GPS account from the app, you will be able to backup and sync your data between your devices and gaiagps.com. You can also transfer any routes, waypoints, or folders created on the web to your device.
First, make sure you are logged into your account. In the app, go to the Account section of the Settings menu: Settings > Account. If you are logged in, your email address will display underneath Account.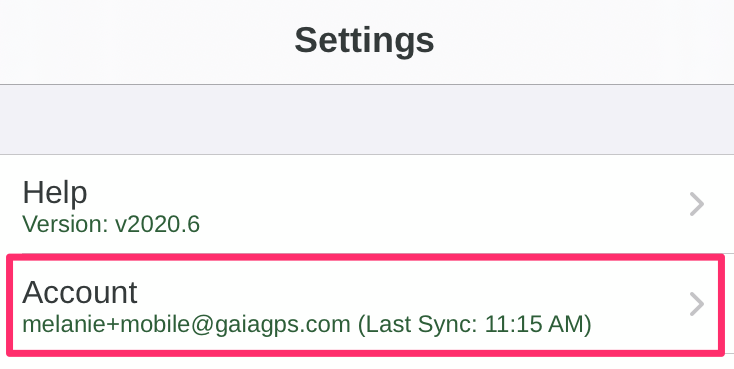 If you are not currently logged in, tap Account > Log In. To create a new Gaia GPS account, t

ap "Start Exploring". Tap "Have an account? Sign In." to log in with an existing account.
Enable Sync on your Account
1. Open the Gaia GPS app. Then tap Settings > Account
2. Toggle On "Sync/Backup" on iOS or "Sync with GaiaCoud" on Android to have your data automatically backup when the app is open and connected to WiFi or cell service.
| | |
| --- | --- |
| iOS | Android |
| | |
3. Tapping "Last Sync" will initiate a sync with gaiagps.com
You can now find your data and manage your account by logging into gaiagps.com
Force a Sync
The Gaia GPS app will initiate a sync whenever you are online and you:
create or modify a Waypoint
create or modify a Photo
create or modify a Map
create, modify, or stop recording a Track
However, there may be times when you want to force a sync to bring your files up to date immediately. For instance, if you update something on our website and you want to see the change reflected on your device right away. Or, if you have multiple devices and want to synchronize changes between them immediately.
Method 1 - Swipe Down on the Saved menu
1. Open the Saved menu and swipe down on the screen. Hold the swipe briefly. On iOS you'll see a refresh icon above the items in the Saved menu. On Android, you'll see a "Downloading from GaiaCloud" message and progress bar.
| | |
| --- | --- |
| iOS | Android |
| | |
Method 2 - From Settings Menu
1. In the app, go to the Account section of the Settings menu.
2. Tap "Last Sync" to immediately trigger a sync between your device and gaiagps.com.
| | |
| --- | --- |
| iOS | Android |
| | |
3. When finished, Last Sync will show the time the sync completed.