Turn-by-Turn directions are available for drivable routes using the Guide Me feature.
Turn-by-turn routing
1. Create a drivable route in the app or on the web.
A drivable route is a route created using Driving as the routing mode.
2. Tap Saved > select Routes from your Saved menu filter > tap on the route name
3. On the route's detail page, select Guide Me
4. A box will pop up asking if you'd like to record a track while following a route. Tap "Yes" or "No".
5. Turn-by-turn directions will display at the top of the screen
6. To view a route's list of directions, tap the route information bar at the bottom of the screen. Then, tap Directions.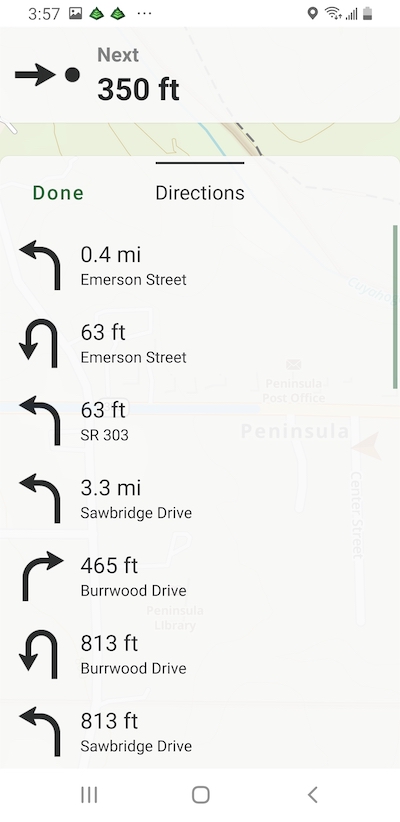 7. Tap Done to return to the map & navigation screen
8. Tap End to exit out of the navigation screen for the route.
Verbal Instructions
Follow these steps to enable spoken instructions during turn by turn routing:
1. Tap Settings
2. Tap Turn-by-Turn Routing
3. Toggle on Enable Verbal Instructions
Also, be sure to check that your Android notification volumes are turned up.
Open the Settings app > Sounds and Vibration > Volume > adjust your System and Notification volumes