Premium Members can import .mbtiles files into Gaia GPS, which lets you use a wide variety of maps/data in Gaia GPS.
Note: After importing an MBTiles map, it will be available for offline use.
First, you can use

Mapbox Studio to create an .mbtiles file, based on data from various filetypes:

.geojson, .gpx, .csv, .kml, and .tif.
Then, you can import .mbtiles into Gaia GPS directly.
Note that Gaia GPS can

import GPX files and simple KML files directly

(even without GaiaPro)

, but Mapbox Studio will also let you bring in more data and geo-referenced images types, such as .geojson, .tif, .csv, .kml, and more.
Use Mapbox Studio to create MBTiles
First, you will need to download Mapbox Studio
Create a mapbox.com account and connect it to Mapbox Studio

Start a new project as a blank source and add your image as a new layer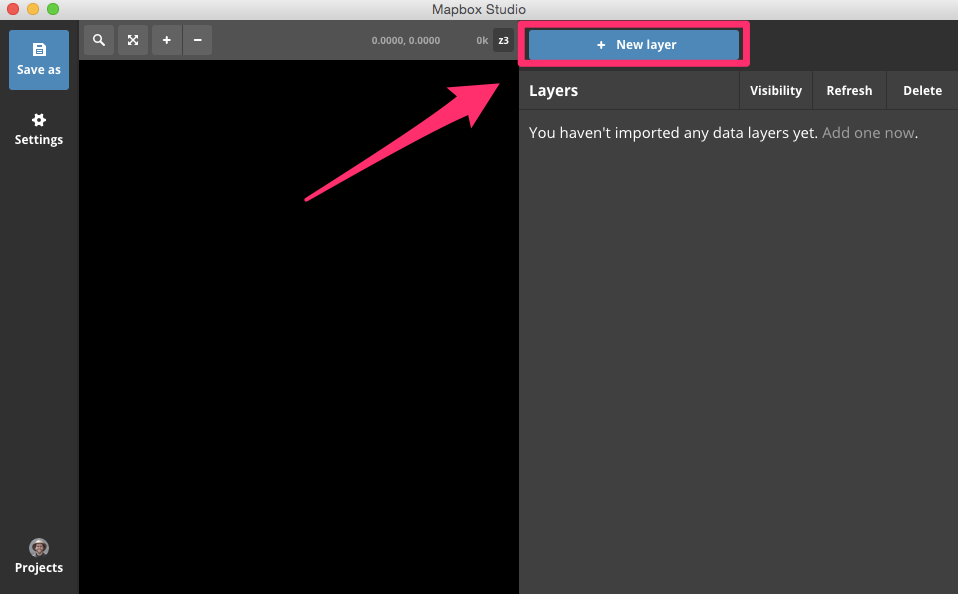 Save the project

Click "settings" and "export to mbtiles"
Once the file is done exporting, you can import directly into Gaia GPS via Dropbox.

NOTE:

If you cannot see the image upon import to Mapbox Studio, or if it doesn't show up after uploading to Mapbox.com, contact Mapbox Studio customer support.

Importing MBTiles into the Android version of Gaia GPS
1. Tap the Create icon in Gaia GPS
2. Select the "Import File" option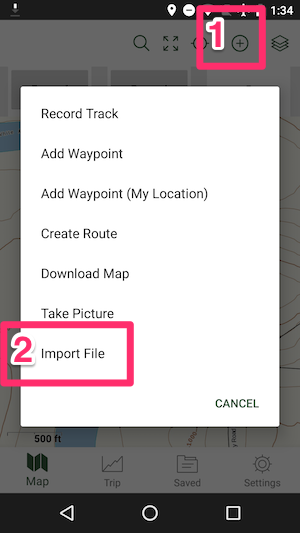 3. Navigate to where the MBTiles are saved on your device (in this example they are saved to the SD card)
4. Tap the MBTiles you wish to import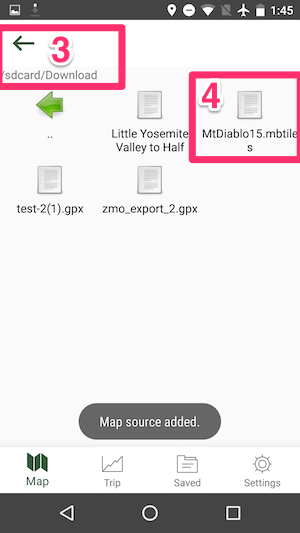 5. In the Layers menu, tap the green arrow next to the name of your MBTiles layer to load it into the main map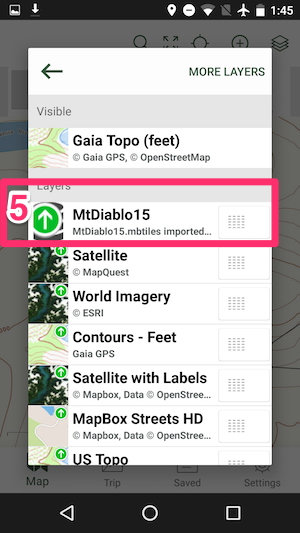 Note: the Android app will allow you to import up to 4gb of

mbtiles

, but files over 100mb will not sync