This article will show you have to customize Gaia GPS for any situation, whether that be switching the main color scheme of the app to clearing any map tiles that have been cached. Adjusting these settings is the best way to have a personalized version of Gaia GPS.
Adjust In-App Settings:
Tap the Saved menu icon:
On iPhone: Bottom Control bar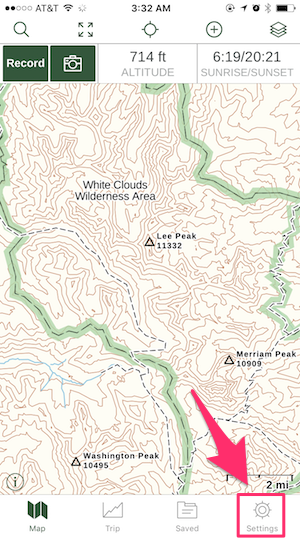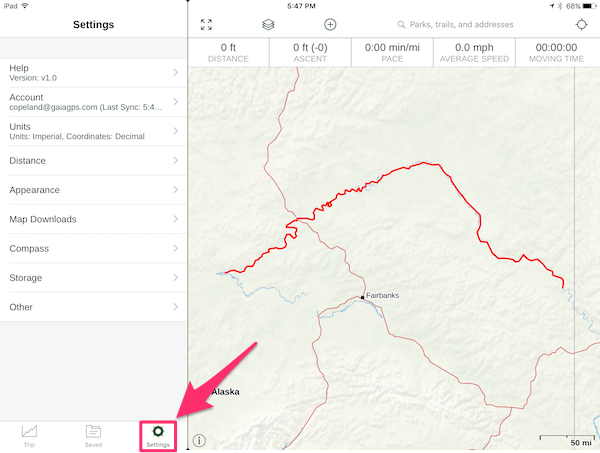 Setting Options:
UNITS
Coordinate Type - Used when entering or viewing coordinates. Available coordinate types are:

Decimal Degrees
Degree, Minutes, Seconds
Degrees, Decimal Minutes
UTM
MGRS
Datum - WGS84 or NAD27
Units - Metric or Imperial
Distance - Standard or Nautical
DISTANCE
APPEARANCE
Colors - Select Colors for App and Highlight Text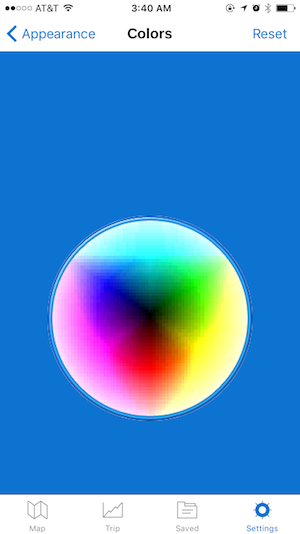 MAP CONTROLS
Allow Rotation: Enable to manually change the map's orientation and override north-up display of the map.
Compass: Toggle on to display a compass icon
Stats Bar: Toggle on to display the stats bar
Cluster Waypoints:

This option allows you to decide whether or not waypoints get grouped together when they are plotted closely. With this setting turned on, grouped waypoints will show a badge indicating how many are in a group

Layered Maps: Toggle on to enable map layering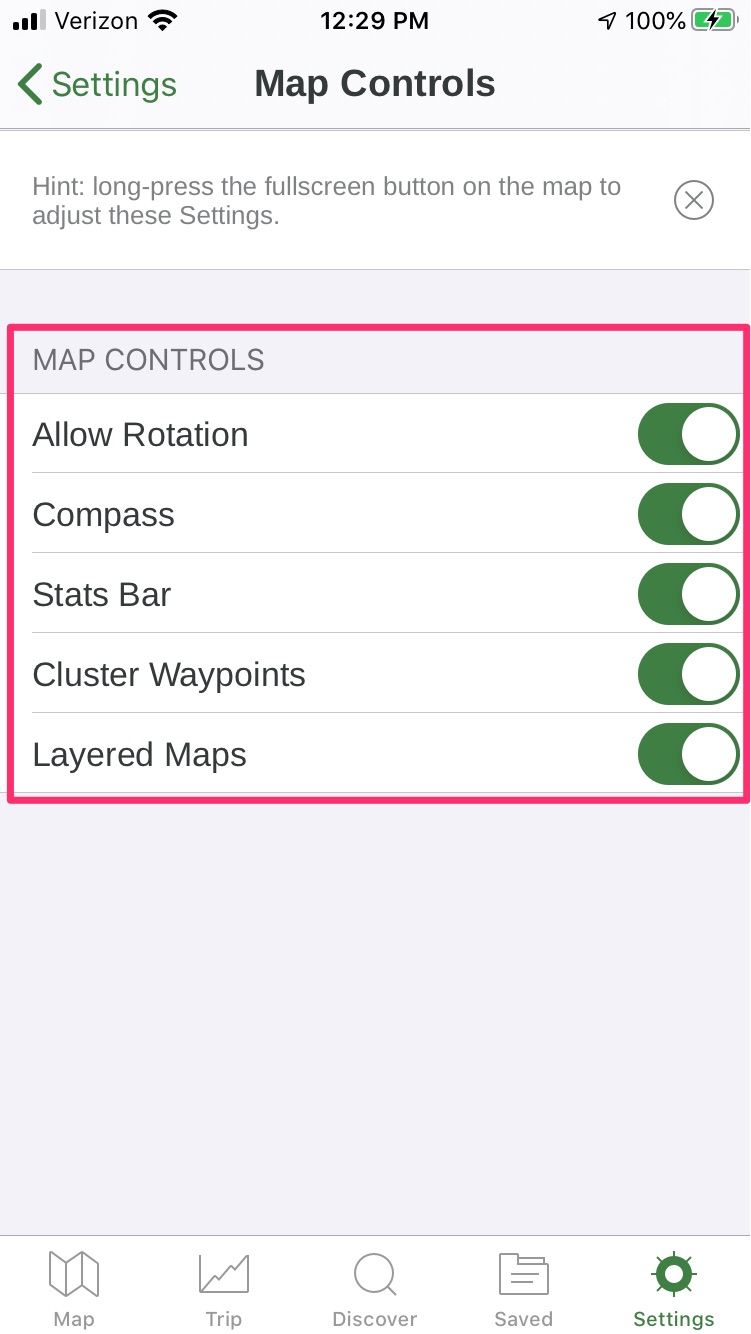 MAP DOWNLOADS
Auto-resume - When turned on, map downloads will automatically resume when launching the app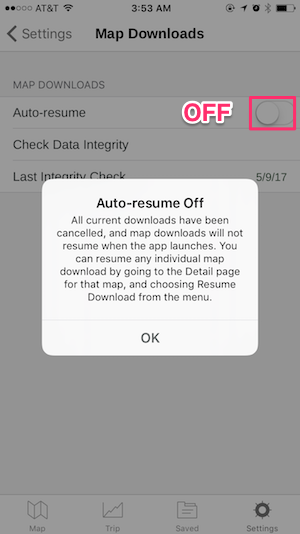 Check Data Integrity - Checks for missing tile data for map layers (typically not used)
Last Integrity Check - Date of last data integrity check
COMPASS
North Reference - True or Magnetic
Compass Warning - Disable or Enable to use the built in iOS compass calibration. Your device will only prompt for compass calibration if it detects there is a problem
Map Arrow - Toggle the map arrow between "Course" and "Compass" Modes
POWER SAVING
Keep Screen On - Keeps the screen illuminated while Gaia GPS is open. Toggle off to maximize battery life.
Disable Altitude Lookup - Disable elevation lookup for routes and waypoints. If this is toggled on, elevation stats will not be reported correctly when creating new routes or waypoints. Toggle on to maximize battery life.
Sync Photos on Cellular - this allows the app to use cellular data to sync your photos to the GaiaCloud. Toggle off to save power or if the app is using too much data.
STORAGE

OTHER
Watch Display - Change what settings are visible for Gaia GPS on the Apple Watch

Save to Photo Library -

If this setting is "on", photos taken within the app will be automatically saved to your camera roll.
Send Logs - Sends error logs to the developers if you are experiencing an issue
Disable Analytics - If this setting is "on", developers are not provided with analytical and usage information; also causing customer support to be more difficult.
Manage Your

Account:
Go to the Account section of the Settings menu.

SYNC SETTING
Sync/Backup - Toggle on to auto-sync with GaiaGPS.com
Last Sync - Date of last full sync
Auto-Publish - Option to auto-publish all finished Tracks
SUBSCRIPTION
ACCOUNT
Change Email - Change the email associated with your Gaia GPS account
Reset Password - Reset the password for your Gaia GPS account
Log Out - Log out of your Gaia GPS account in the app