There are four icons in the top-right corner of the map:
Layers: to select your map source
Overlays: toggle the display of publicly shared trips, your tracks and waypoints, and several POIs
Waypoint: drop a waypoint or plan a route
Print: (GaiaPro only)

Also on the main map:
Crosshairs: will geo-locate you based on your internet connection
Zoom icons: (+) and (-) symbols zoom in and out from the center of the map
Turn on the public trips overlay to find public tracks to add to your account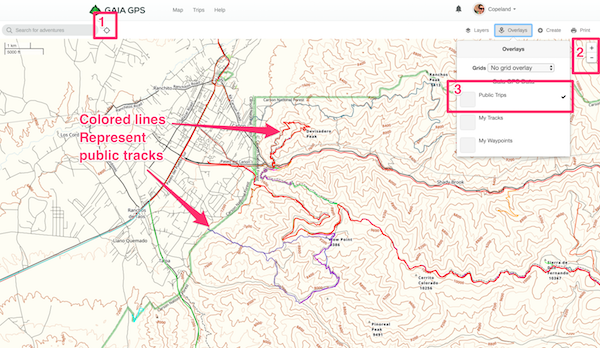 Search Bar:
After searching for a trail, park, or POI in the search bar, use the "Send to App" feature to sync the data and the boundaries for an offline map to your device. Once the folder with the search results syncs, Gaia GPS will automatically start downloading the map tiles for the offline map.
SEND TO APP
1. Use the search bar on gaiagps.com to find trails, places, POIs, or GPS coordinates.
Note: To search coordinates, use the format: 00.00000, -00.00000
2. Select the trail, place, or POI you are looking for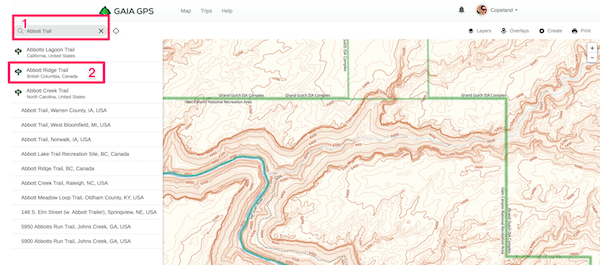 3. Click "Send to App"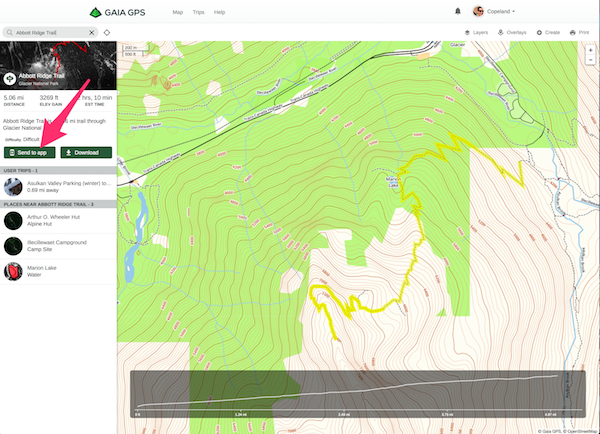 4. Name the folder that will house the trail and offline map
5. Choose a level of detail for your offline map
6. Select one or more map sources for your offline map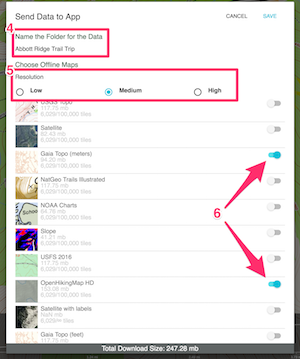 7. Sync your device with gaiagps.com