Gaia GPS can be installed as an extension on the Apple Watch. This will allow you to duplicate parts of the app to be displayed on your Watch while using the Gaia GPS app on your iPhone or iPad.
When paired with Gaia GPS on your iPhone or iPad, your Apple Watch will give you the ability to see your location, start/pause track recording, and check stats all at a glance.
Setting up Gaia GPS on Apple Watch
Because the Watch app is an extension of the iOS app, you will need to first install the Gaia GPS app on your iPhone or iPad.
Then, open the Apple Watch app on your device and select Gaia GPS from the available apps.
Depending on your Watch version and your iOS version, the Watch app may appear differently. Install Gaia GPS from the "glances" menu on Watch OS 1 & 2. Install it from the "dock" on OS 3. Or it may appear under "available apps" on iOS 13.
| | | |
| --- | --- | --- |
| Watch OS 1 & 2 | Watch OS 3 & later | iOS 13 |
| | | |
Adding Stats
You can change which stats are displayed on the Watch face.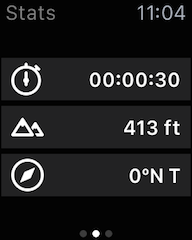 Choose between:
| | |
| --- | --- |
| Time* | |
| Elevation | |
| Compass | |
| Pace* | |
| GPS satellite strength | |
| Distance* | |
| Total ascent and descent* | |
| Current Speed | |
* Time, pace, distance, and ascent/descent stats are only displayed on the watch app when recording a track.
To change what stats are displayed:
Open Gaia GPS on your iPhone or iPad
Go to Settings> Other> Watch Display
Long-press and drag stats between AVAILABLE and SELECTED
Recording
Start recording from your mobile device, and pause from the watch.

The first screen will show the recording time. Tap once to pause and again to continue.
You can also mark a waypoint from this screen
The Map Screen
The third screen is a live preview of the Main Map screen. Follow your progress and check your location without taking out your phone.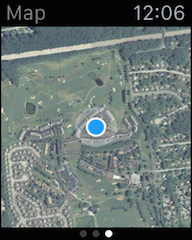 Zoom on the map and center on location. Hard press the screen to bring up the options to zoom in/out and zoom to your current location.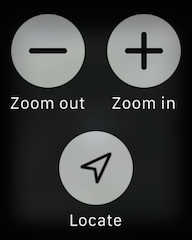 Notes on Battery life:
Using Bluetooth devices, like an Apple Watch, while recording with apps like Gaia GPS can drain your device's battery faster than expected. If you are planning a longer hike, we recommend an additional battery or charging unit.
Also, here are some Tips on improving battery life with Gaia GPS.
Error Messages:
There are 2 different error messages you might see for maps on the Apple Watch:
"Unable to load map" - This happens when the map is not downloaded, or you zoom in closer than the map is downloaded.
"Map source not available offline" - This happens when trying to use a vector-based map source on the watch. These sources are not compatible with the watch. When the phone is online, servers can render these maps on the watch, but downloaded maps for these sources won't display while offline. Vector sources include all MapBox sources and Gaia Topo.